Author, retreat leader, and Episcopal priest: Dr. Bullitt-Jones serves the Episcopal Diocese of Western Massachusetts & Southern New England Conference, United Church of Christ, and the Episcopal Diocese of Massachusetts. A long-time climate activist, she believes that the ecological crisis – from climate change to the extinction of species – calls us to claim our kinship with all creation, to look deeply into our sources of hope, and to work together to build a just and sustainable future. Reviving Creation
The term "deep ecology" comes to mind when introduced to Dr. Margaret Bullitt-Jonas.  The core principle of the term "is the belief that the living environment as a whole should be respected and regarded as having certain basic moral and legal rights to live and flourish, independent of its instrumental benefits for human use." (Deep ecology – Wikipedia). Dr. Bullitt-Jonas has combined her life experiences and faith tradition to be a strong supporter of protecting all life on the planet.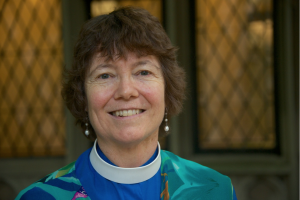 Dr. Bullitt-Jonas' latest book is a collection of 21 essays by scientists, scholars, faith leaders, and activists who write about their sources of strength, wisdom, and hope as they grapple with climate crisis. Below is a brief excerpt below from the book called "Love Every Leaf" written by Dr. Bullitt-Jonas:
  In times like these, our prayer may need to be expressive and embodied, visceral and vocal. How else can we pray with our immense anger and grief? How else can we pray about ecocide, about the death that humanity is unleashing upon Mother Earth and upon ourselves? How else can we break through our inertia and despair, so that we don't shut down and go numb? . . . .

I've taken to praying outdoors. I go outside, feel the good earth beneath my feet and the wind on my face, and I sing to the trees—to oak and beech, hemlock and pines. Making up the words and music as I go along, I sing my grief to the trees that are going down, and my grief for so much more—for what we have lost and are losing, and for what we are likely to lose. I sing my outrage about these beautiful old trees being cut to the roots, their bodies chipped to bits and hauled away to sell. I sing my fury about the predicament we're in as a species. I sing my protest of the political and corporate powers-that-be that drive forward relentlessly with business as usual, razing forests, drilling for more oil and fracked gas, digging for more coal, expanding pipeline construction, and opening up public lands and waters to endless exploitation, as if Earth were their private business and they were conducting a liquidation sale. I sing out my shame to the trees, my repentance and apology for the part I have played in Earth's destruction and for the part my ancestors played when they stole land and chopped down the original forests of the Native peoples who lived here. I sing my praise for the beauty of trees and my resolve not to let a day go by that I don't celebrate the precious living world of which we are so blessedly a part. I'm not finished until I sing my determination to renew action for trees and for all of God's Creation. . . .

So our prayer may be noisy and expressive, or it may be very quiet. It may be the kind of prayer that depends on listening in stillness and silence with complete attention: listening to the crickets as they pulse at night, listening to the rain as it falls, listening to our breath as we breathe God in and breathe God out, listening to the inner voice of love that is always sounding in our heart. A discipline of contemplative prayer or meditation can set us free from the frantic churn of thoughts and feelings and enable our spirit to rest and roam in a vaster, wilder space.  
Margaret Bullitt-Jonas, "Love Every Leaf," in Rooted & Rising: Voices of Courage in a Time of Climate Crisis, eds. Leah D. Schade and Margaret Bullitt-Jonas, (Rowman & Littlefield: 2019), 175, 176–177.
In short, Margaret believes that the root of the struggle with Climate Change is spiritual and her focus on environmental ministry is her way of helping others understand and respond to the challenges.
Margaret lives with her husband Robert A. Jonas (see www.emptybell.org for his Christian-Buddhist dialogue website) in Northampton, MA, and works with him to help preserve farmlands, fields, and woodlands in the Pioneer Valley.
As we celebrate Earth Day this year let us consider the declaration of climate emergency, with suggested resources and actions, that was prepared and distributed by the Massachusetts Episcopal dioceses.  As the declaration suggests, we can be more effective in our concern when we "pray, learn, act, and advocate."  See this link for the available pdf for download. e277ab1c-b900-49b4-9cee-02e9543522e2.pdf (constantcontact.com)